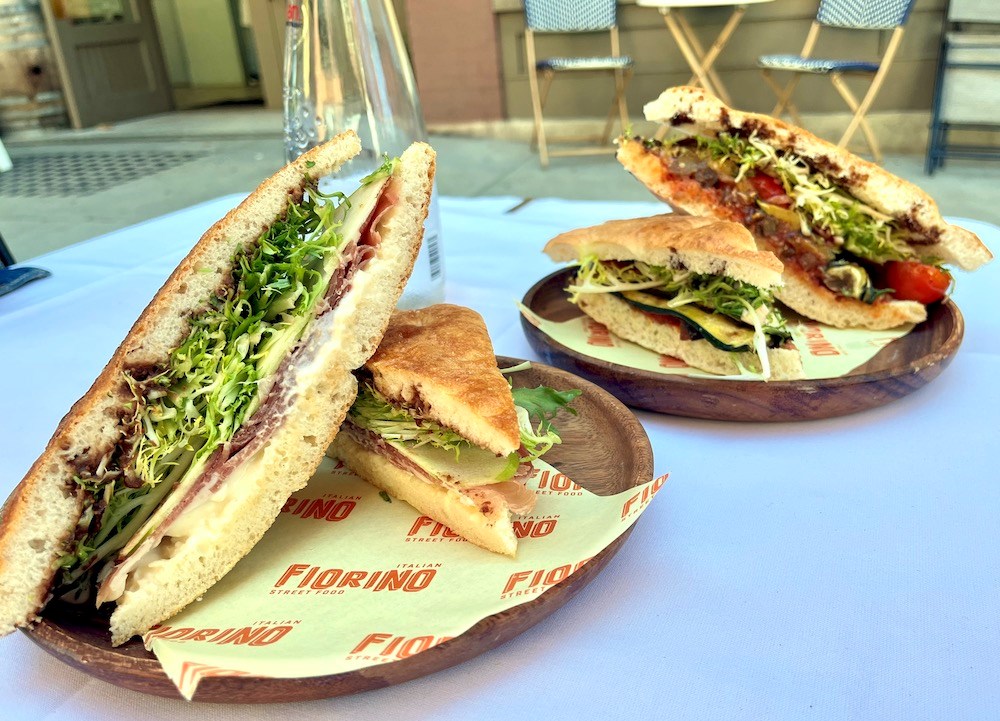 What's on the menu at Fiorino's restaurant in Vancouver?
Serving lunch, dinner and an Italian happy hour filled with drinks and snacks daily.
What do you do when you're an Italian-Canadian bush pilot in training craving a hard-to-find food that you miss so much in Italy?
If you are Giovanni Mascagni, you open a restaurant – Fiorino – and put this dish on the menu. This dish, by the way, is a simple sandwich prepared with schiacciataa bread similar to the focaccia found in Mascagni's native Florence.
Fiorino opened in late 2021. Located in a former pub-style restaurant space in Chinatown, the modern Italian restaurant offers day-to-night service — including a snack-and-beverage-filled appetizer offering, aka happy hour – and a fun little patio space out front that puts you in the middle of the colorful neighborhood.
As it should be, because Mascagni's beloved childhood sandwich is considered street food in Italy. And while Mascagni and the Fiorino crew aren't crisscrossing Vancouver in a food truck or cart, as we've come to know street food, they do serve up affordable and thoughtful Italian fare, including a few others that highlight the ingredients and preparations you have won. 't likely find it on other local Italian restaurant menus.
"We want to stay true to our traditions, but we also want to bring them to 2022," Mascagni told VIA during an in-person conversation on Fiorino Terrace.
What's on the menu at Fiorino?
That means hiring a 70-year-old Tuscan baker who comes at dawn to bake everything, including the schiacciata used for Fiorino's loaded and flavorful sandwiches. Between the slices of soft Tuscan bread you'll find things like bresaola, gorgonzola spread, cherry tomato, lettuce and fig jam (called "Blu") or the meatless "Vegana" with roasted zucchini, caponata frisee, tomato, onion, and aged balsamic.
Other ways Fiorino offers an authentic bite of Tuscany are dishes like Panzanella (bread salad), which Mascagni says has been "modernized" a bit for Vancouver palates to ensure it's approachable yet still represents a classic. However, Fiorino also offers Coccolis and Prosciutto, a dish of fried dough bites served with 18 month old Parme's ham and stracchino – a young, soft and creamy Italian cow's milk cheese that Mascagni imports through local vendors.
Fiorino also serves a traditional Florentine steak, which in their case is an impressive 35-ounce cut of BC'a 63 Acres that they dry-age for 45 days before cooking and serving them to a table. It's not something you'll get into on your own, and then need a bag to carry; in Florence, these steaks are meant to be shared at the table, and Fiorino's is ideal for at least three to four diners.
The sharing-plate approach is central to Fiorino's dinner menu, while lunch is a little more about slightly lighter bites – although, to be certain, you can order a plate of pasta for lunch. either meal as a spicy dish. Spaghettoni with seafood (spaghetti with seafood in an arrabiata sauce).
Mascagni says Fiorino's philosophy of showcasing lesser-known Italian items like the stracchino or cococoli also extends to how they have built their wine list for the restaurant. All of the wine on offer is Italian, and Mascagni explains that they try to "showcase the smaller producers and the different varietals that aren't as popular in Canada." Fear not, though, while your server may direct you to something you've never tried before, vino fans will recognize varietals like amarone, baroloand chianti.
In addition to the extensive Italian wine program, look for local craft beers (and the Italian Perroni) as well as classic Italian cocktails and digestives. There's even an extensive menu of negroni selections, from "Classico" to those featuring flavors like rhubarb or coffee.
The vision of Mascagni and the Fiorino team is above all to offer Vancouver a taste of "everything they have in Italy" and the chance for the guest to experience something different. "We are modern, young, but very Italian," adds Mascagni.
Fiorino is located at 212 E. Georgia St, Vancouver and is open seven days a week, serving lunch from 11:30 a.m. to 3 p.m., cocktail hour from 3 p.m. to 6 p.m., and dinner from 5 p.m. to late.