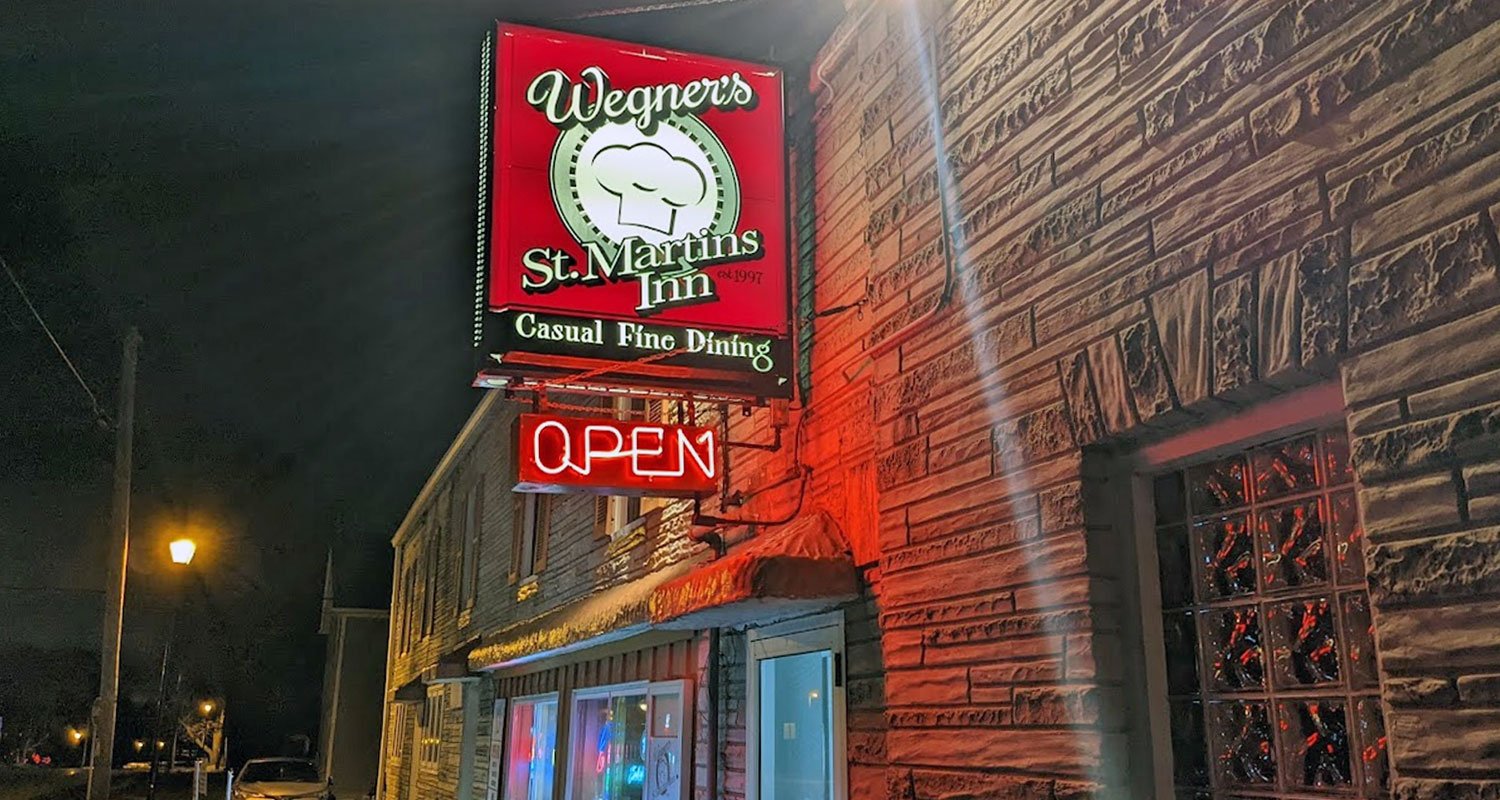 Wegner's St. Martins Inn (Franklin)
Caleb Westphal hasn't missed a friday fries since 2013. Follow his endless adventures here. This week: Wegner's St. Martins Inn.
"Yyou beat me. You're faster than most people," remarked the stewardess, as she put down a placemat and silverware when I was already halfway to my seat. I had just made my way respectfully through the dining room and across the corner table to Wegner's St. Martins Inn (11318 W. St. Martins Road, Franklin, 414-425-9971). In my defense, almost everything hanging on the walls in the restaurant is automotive themed – and most has to do with racing – so I stuck to the theme. But I wasn't looking for the dining room racing line because I'm a motorsports fanatic. No, I was away because it was Friday and the checkered flag had fish fries on the other side.
Dennis and Kathie Wegner opened Wegner's St. Martins Inn in 1997. Dennis had previously been a chef at Mader for more than two decades. Prior to Mader's, he worked at a few other restaurants, studied under a French and German chef at MATC, and apprenticed to an Italian chef. He got his start with food in a Marc's Big Boy while in high school.
The "St. Martins" in the restaurant's name may refer to the former hamlet of Franklin, St. Martin's, where the building is located. The hamlet was named in honor of Father Martin Kundig, who settled in the area in the 1840s and founded the parish of Holy Assumption.The church burned down in 1866, but a a new one was quickly built to replace it. The church building still stands and is located directly across from Wegner's St. Martins Inn. Today it's Cornerstone Bible Church.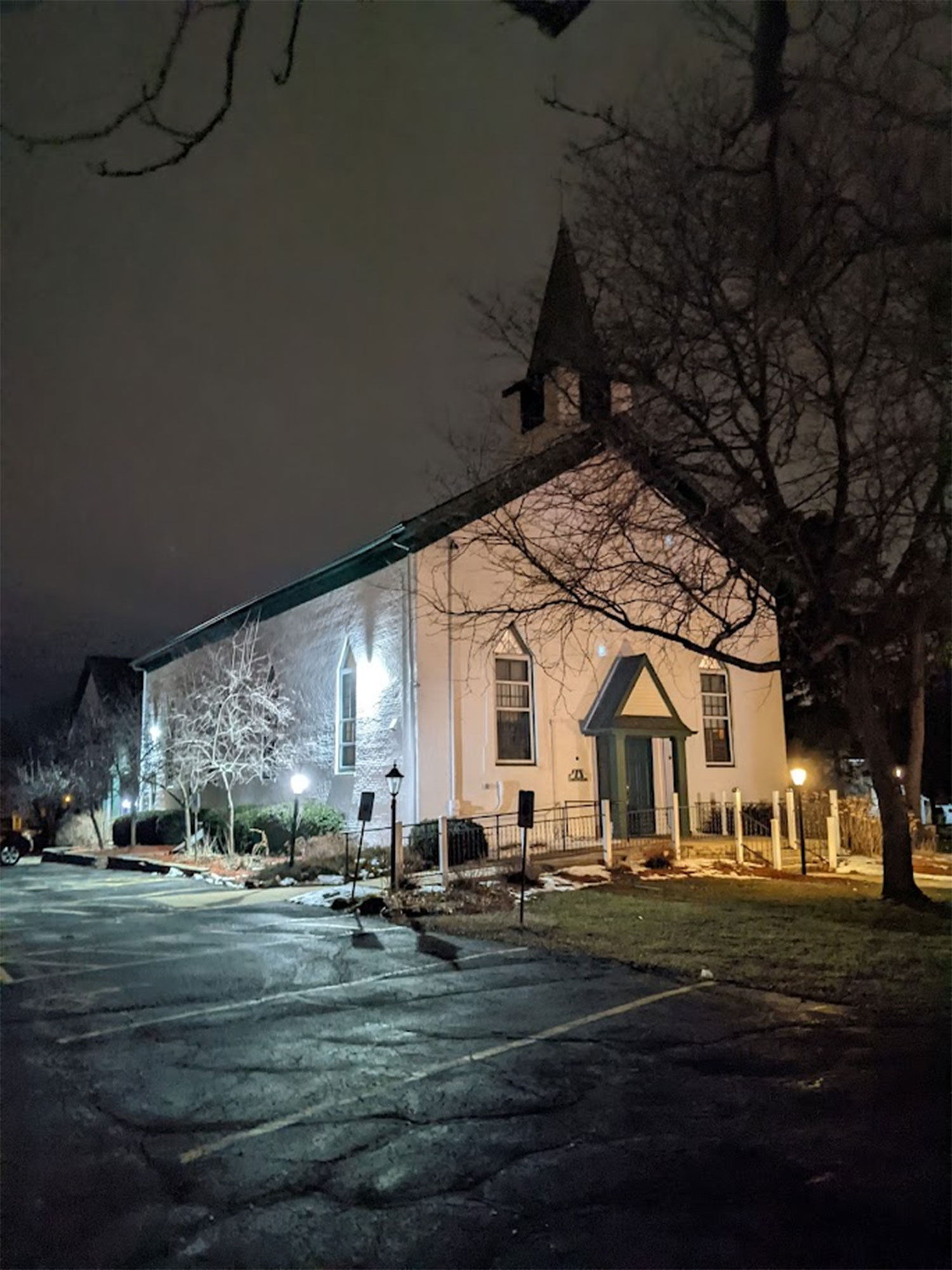 It's Wisconsin, so the church and the restaurant have an agreement that the church can use the restaurant's dumpsters, as well as its parking lot on Sundays, while fish fries lovers can park on the church parking lot on Fridays. Jesus may have fed 5,000 people fish fries with five rye loaves and two small fish, but Cornerstone Bible Church does the work of the Lord every Friday and has surely helped feed over 5,000 people. I've been fishing at Wegner's three times, most recently in September, and have always parked in the parking lot.
Long before it became Wegner's St. Martins Inn, the building housed St. Martin's Inn by Casper Jochem. Casper Jochem (1859-1942) operated the establishment, which was a general store, if not also an inn, until about 20 years before his death. His father, Frank, came from Germany to New York in 1854 and to St. Martin's in 1855. Shortly after his arrival he opened a general store, which also had a post office and saloon. I haven't been able to confirm this – although Frank lived to be 99 and could almost have told me this himself – but in all likelihood Casper and Frank's store were one.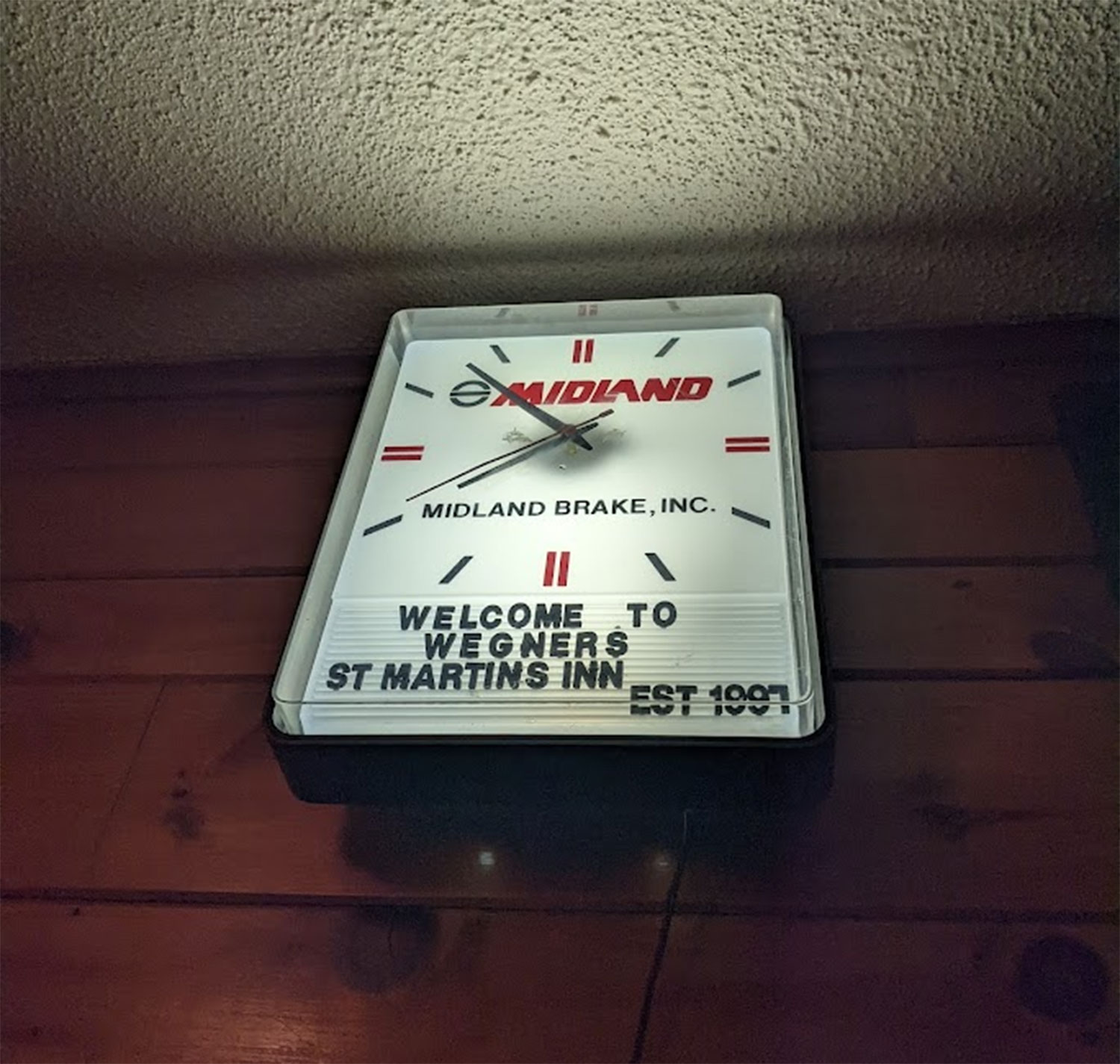 FAfter parking at the church, waiting for the bar (surprisingly short for the number of cars outside) and running to the dining room, it was time to look at the Friday menu bite. Leading the way is St Martins Fish Fry, featuring beer-battered Icelandic haddock ($12.75/three pieces or $14.75/four pieces). The menu continues: real fresh yellow perch fillets ($18.25); Taste of Our Friday Night Favorites ($16.75 for a combination of yellow perch and Icelandic haddock); Cajun-style fresh salmon fillet ($16.75); Steamed fish ($15.25 for steamed Icelandic haddock served with boiled red potatoes); and Chef Dennis' Friday Night Sampler ($18.75 for breaded and steamed Icelandic haddock, shrimp, scallops and fresh lake perch). Unless otherwise specified, these fried fish dishes come with a choice of boiled red potatoes, German potato salad, potato pancakes or French fries.
The poor souls who don't like fish can order the For The Land Lover ($8.25 for Userger's Knackwurst with coleslaw, rye bread and choice of potatoes). A homemade New England clam chowder is available ($4 cup/$4.50 bowl). The bottom of the menu is dedicated to children under 10 years old. They can order any of the following dishes served with fries: St. Martins Fish Fry ($7.75), Deep Fried Shrimp ($9.50), Fresh Lake Perch ($9.50), and Grilled Cheese or Hot Dog ($5.75).
This week I went with the taste of our Friday night favourites, selected the potato pancakes and topped the meal off with a cup of chowder. The thinner, soup-like chowder was well loaded with vegetables, especially large chunks of red potatoes with skin on. A scattering of green seasonings and a good amount of clams filled out the rest of the chowder.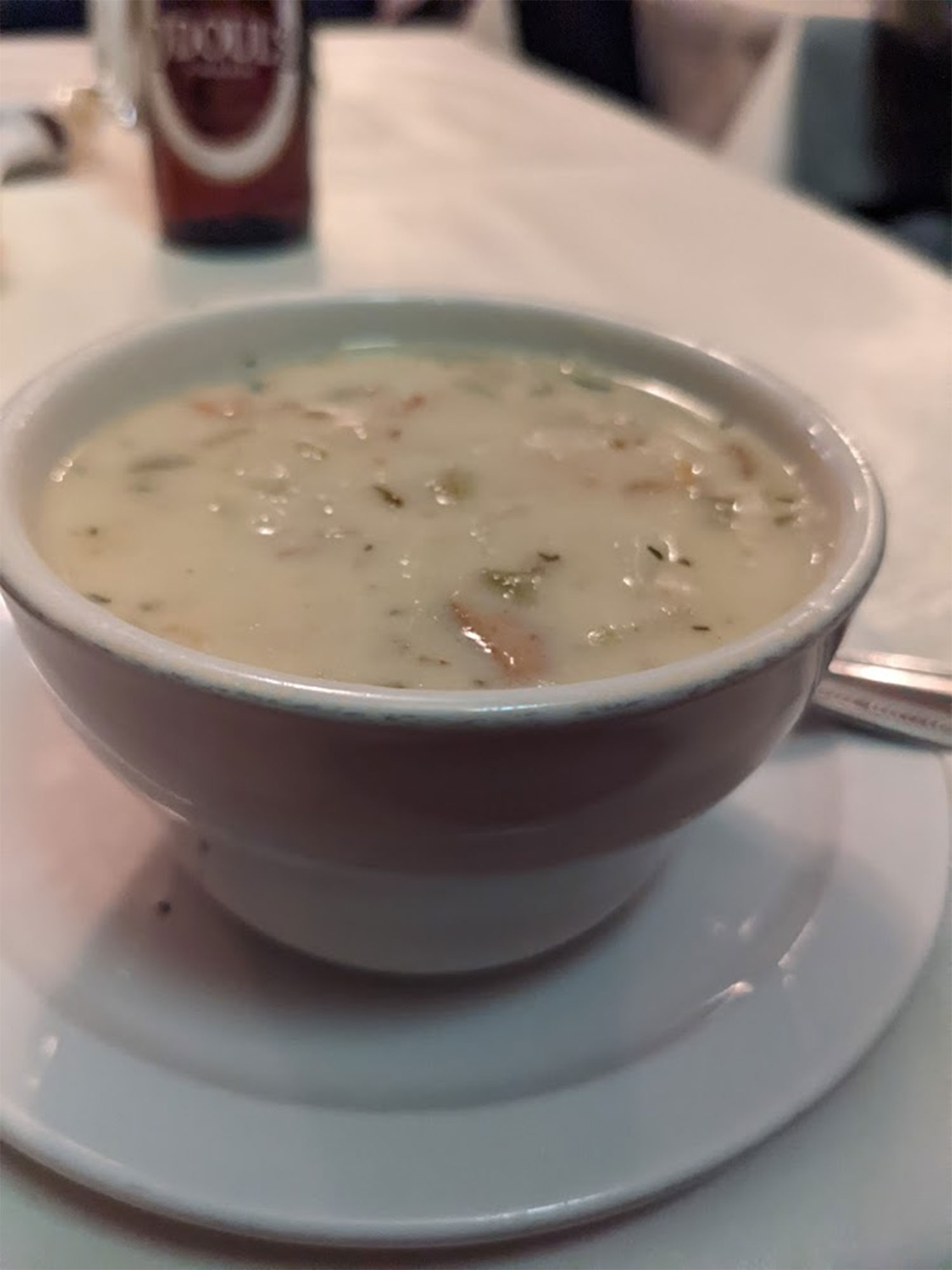 The bread, listed as originating from Canfora Bakery (now Edge of the lake), was a half-slice of heavily buttered and succulent marbled rye. The coleslaw was excellent, creamy but not runny or too squeaky. Mint green in color, with a bit of orange carrot and a hint of seasoning, there had to be a secret to its simple perfection.
Asking if the pancakes are made at the restaurant is a trick question: the recipe is Dennis's, but they're made offsite. We don't have to play the is-it-a-pancake-or-really-just-a-hash-brown game. Compact, with finely chopped or grated ingredients fully enclosed inside – perhaps including onion powder and herbs – they were somewhat unique and unmistakably in the potato pancake camp. A few pieces of fresh parsley were on top.
Three pieces of perch – two of which were still butterflied together – and two pieces of haddock formed the centerpiece of the meal. Both had a crusty coating, but they diverged from there. While the perch was breaded, the haddock was beer breaded. The breading was thick with lots of texture and retained a sweetness despite being crunchy. Sweet in flavor, it was an ideal counterpart to the fish it covered, which was also sweet. The batter on the haddock was golden and glazed, and harder than what covered the perch. Below, the big chunks of haddock were meaty and snow-white. Thin and heavy in taste, the tartare was not particularly memorable, but served its purpose.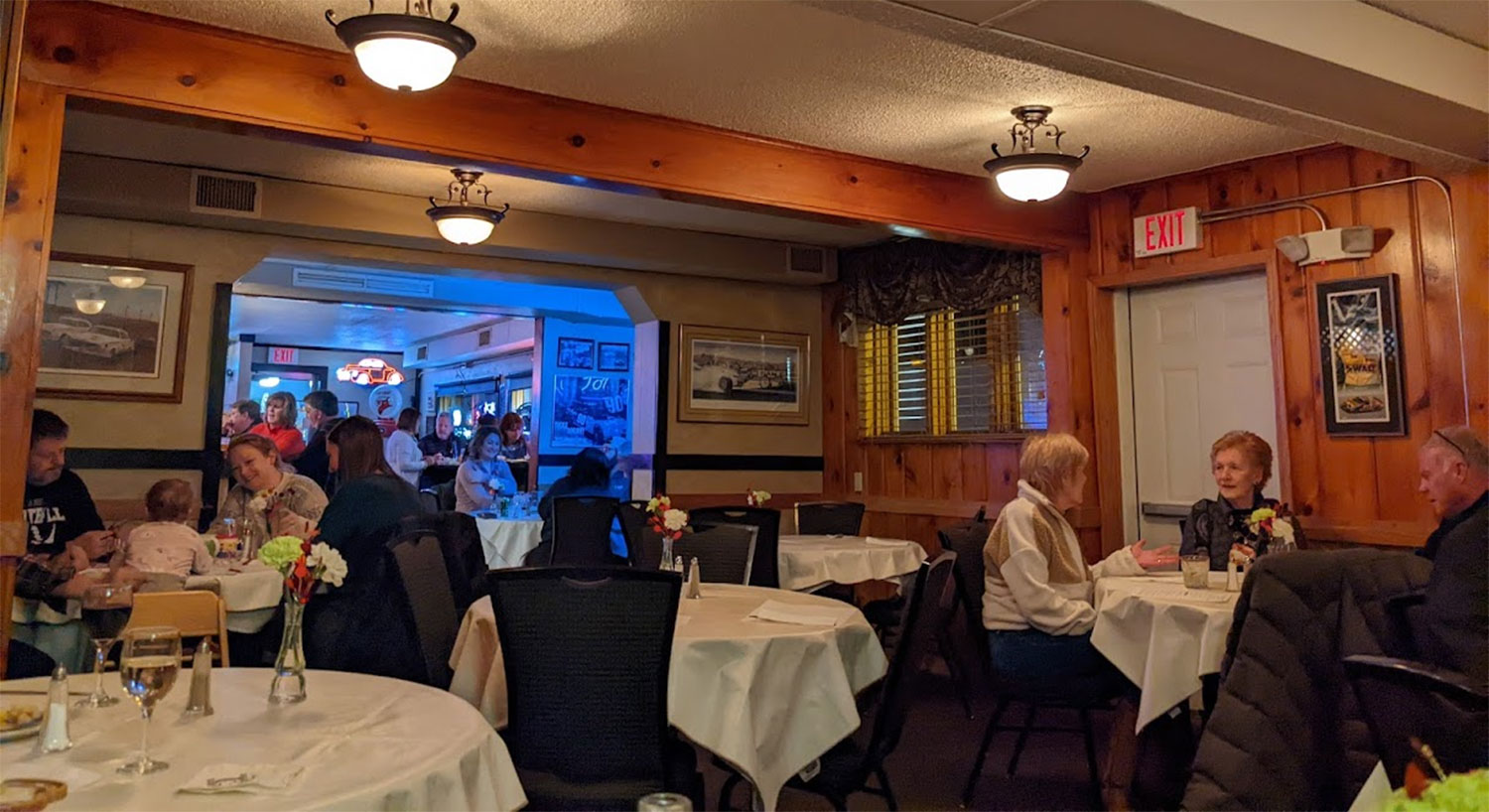 NOTneither perch nor haddock are immaculate, but they have many merits. Taken with the rest of the food, as well as the atmosphere, it's not hard to see why Wegner's St. Martins Inn has been in business for nearly a quarter of a century. Granted, their fish fry is a Friday night staple for many, and you'd be remiss not to stop by at least once.
Take away food : Automotive and racing theme; cozy dining room; join the Quarter Century Club this year; many fish options; luscious bread; excellent coleslaw; somewhat unique pancakes that are definitely not hash browns; distinct fish coatings; park in the church parking lot.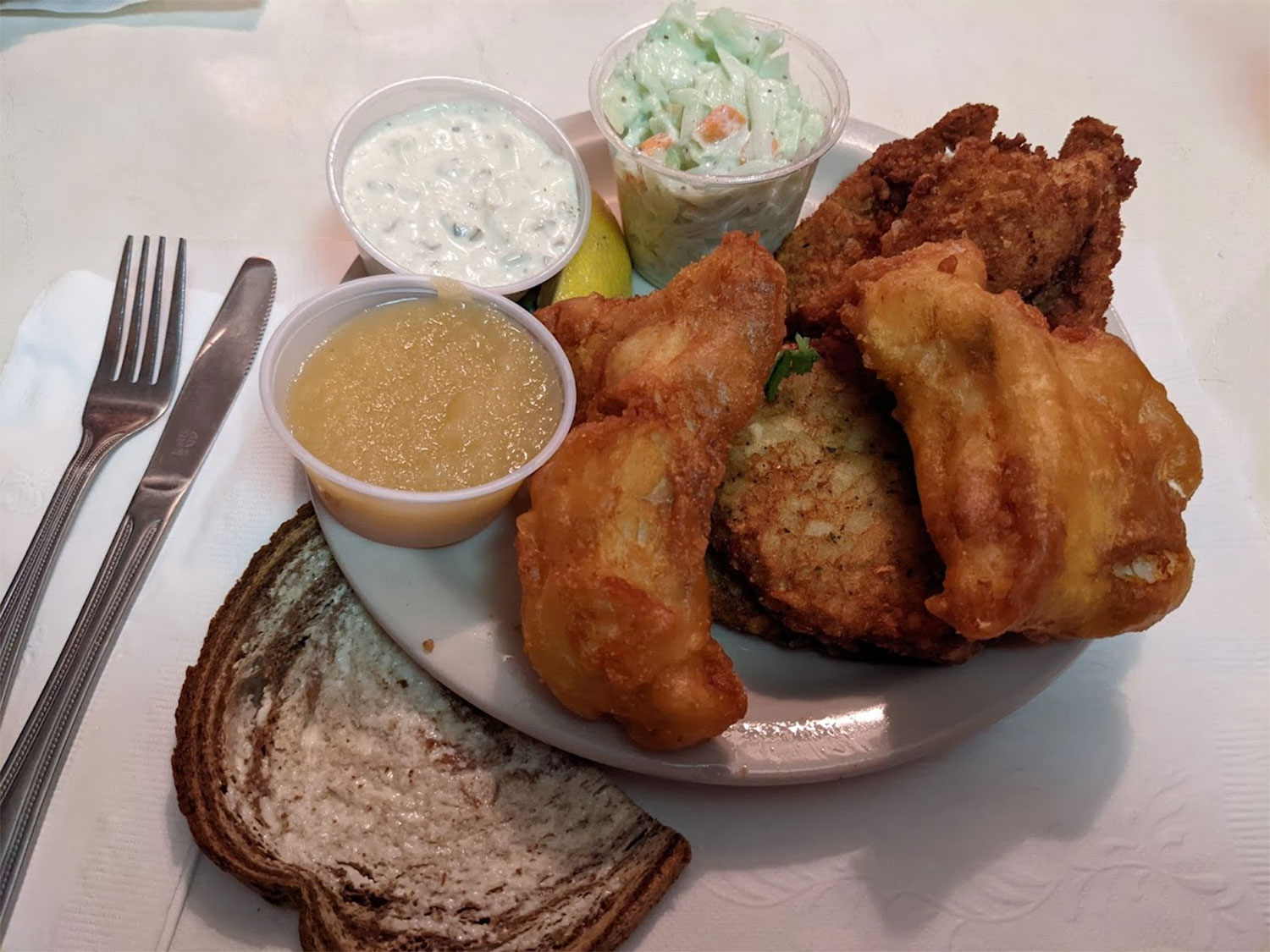 Exclusive articles, podcasts and more. Support Milwaukee Record on Patreon.
---
RELATED ARTICLES
• Fish fry archives