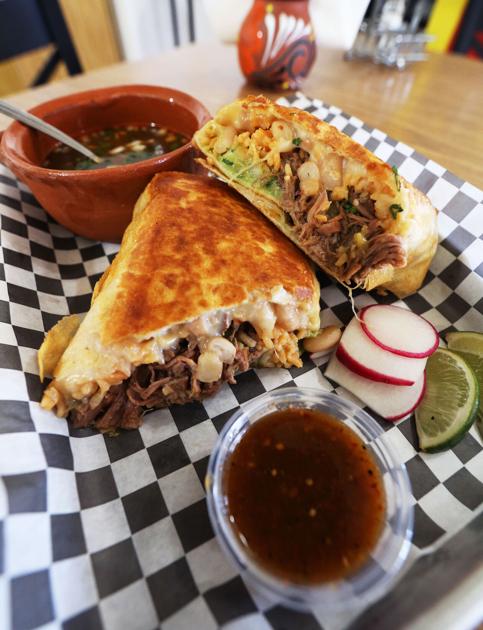 PETE TITTL: Relocated restaurants that bring us the birria | Food
The carnage of the COVID-19 pandemic continues in the restaurant industry. Recently, we lost two of my new favorite restaurants from the past 18 months: By the Way Grill at Bill Wright Toyota and Casa Flores Restaurant Bar (in the old Lie-N Den).
I enjoyed By The Way Grill not only for using Bill Wright's old TV commercial signature (respect for local history), but also for how the food was good enough to inspire a visit when you weren't fixing it. not your car. Casa Flores was a family owned Mexican coffee company, and the potential was there, but this virus has been vicious for this industry.
The good news is that new tenants have moved into these places: El Taco Rojo in the Auto Mall and Tacos El Asadero in Niles Place. Both specialize in birria (pronounced beer-ya), also known as Mexican beef stew, a dish native to the state of Jalisco, traditionally made with goat meat, but can also be made with beef. (increasingly popular), lamb or chicken. The most commonly used vegetables are tomatoes, onions, garlic, and various peppers, and the slow cooking process can tenderize some hard cuts.
Both restaurants use beef, and if you've never tasted one before, I predict you'll be hooked on what they offer. Think really chewy shredded beef with the savory undertones vegetables can add to the dish. Each comes from humble origins – Rojo from a food truck, El Asadero from an exchange vendor – to join the bricks and mortar crowd.
Our first visit was to Taco Rojo for lunch (hours are limited to weekdays 7 a.m. to 3 p.m.) where we ordered a chicken burrito ($ 7), a street taco carne asada ($ 1.25 ) and what the woman taking our order said was the most popular menu item, the birria taco dorado ($ 3).
What was the quality of the birria? When we get back we will have the plate ($ 14) with rice and beans, the fluffy and almost fatty stringy beef but in this kind of meal it is an expected condition. Everything was impressive: the chicken burrito filled with chewy, small pieces of poultry, lots of moist rice and whole beans, onions and cilantro. More chicken and rice than anything else, but quite tasty.
The crispy dorado taco contained the birria with a tomato and cilantro broth after assembly, the cheese inside melting everything, a style popular in Sinaloa. Again, what they are offering here is not your standard rate that we find elsewhere. The asada was okay, but when you can get the birria it's hard to go for that other beef version.
We were even more impressed with El Asadero, where the whole family wore masks all the time, taking the pandemic seriously with laminated menus at the table and cleaning often. (According to emails from readers, some are still wary of restaurants that aren't diligent about security.)
The menu is much more extensive here, and we sampled the taco asada ($ 2.25), the taco pastor ($ 2.25), the chicken taco ($ 2.25), a burrito birria (10.50 $) and a quesataco birria ($ 3.75). Yes we ordered too much but it was so amazing. The burrito came with a broth that you can use as a au jus to dip your burrito in, but this one came with a spoon and can be eaten like a soup because it is much less brackish than the typical au jus. The burrito was toasted brown after assembly, nice and crispy.
The tacos are Tijuana style, our waiter told us, which means they are made with charcoal grilled meats and come with a dollop of guacamole and two salsas on the side, one medium green and one. spicy red. He told us they had an even spicier version of the red available on request. The taco birria was the best, with queso fresco, onions and cilantro inside but so rich in meat it was like eating a sandwich.
The pastor was fine, but it was just pale compared to the birria, which is really hard to resist after tasting a good version. I know this has been very popular in Los Angeles so it's nice to see us offering similar options here in Bako.
Pete Tittl's Dining Out column appears in The Californian on Sundays. Email him at [email protected] or follow him on Twitter at @pftittl.