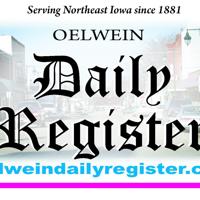 Oelwein Senior Dining Center January Menu | Oelwein daily register
The Oelwein Senior Dining Center is now open three days a week, Monday, Wednesday, Friday, 9 a.m. to 1 p.m.
Meals must be reserved the day before before 9:30 a.m. Monday meals must be reserved for Friday. Anyone who wants a meal should call 319-283-5180 and leave your name, phone number and the day you want to reserve your meal. Contributions are accepted based on ability to pay.
Here's the Northeastern Iowa Regional Agency's menu on aging for January.
Monday January 3 – Back-to-back chicken breast, honey mustard sauce, whipped sweet potatoes, seasoned green beans, baking, chocolate milk
Wednesday January 5 – Hamburger patty, lettuce / tomato / onion, oven roasted potatoes, baked beans, hamburger bun, pineapple chunks, milk, ketchup
Friday January 7 – Fish in a potato crust, confetti rice, various vegetables, mandarins, milk, tartar sauce
Monday January 10 – Salisbury beef, mushroom sauce, whipped potatoes, glazed baby carrots, baked cookie, milk, margarine
Wednesday January 12 – Pork loin, brown sauce, whipped potatoes, green beans, birthday cake, milk, margarine
Friday January 14 – Californian vegetable soup, egg salad, marinated carrots, wheat wrap, pineapple bites
Monday January 17th – Closed for Martin Luther King Jr. Day
Wednesday January 19 – Chicken thigh with Caribbean spices, roasted sweet potatoes, black beans, wheat bread, pieces of pineapple, chocolate milk, margarine
Friday January 21 – Cheese omelet, roasted diced potatoes, cinnamon roll, hot cinnamon applesauce, milk, margarine
Monday January 24 – Pork, BBQ sauce, baked beans, corn, hamburger bun, sliced ​​peaches, milk
Wednesday January 26 – Baked chicken breast, Mediterranean sauce, spinach orzo, fiesta vegetable mix, baked cookie, milk
Friday January 28 – Potato chowder, tuna salad, coleslaw, wheat bread, mandarins, milk
Monday January 31 – Pizza casserole, green beans, wheat bread, warm lemon cake, milk, margarine