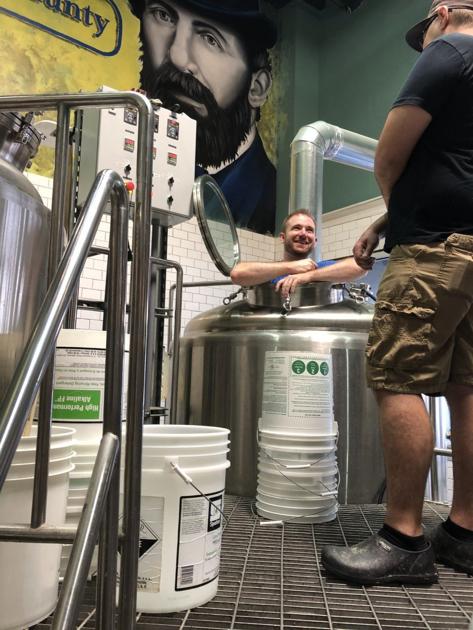 Man's Planned Life Celebration Described as "The Foundation of the Huntington Restaurant Scene" | New
HUNTINGTON – A man described as a foundation from the Huntington restaurant scene was killed in a motorcycle crash on Saturday.
Oliver Bailey, 35, died on Saturday from injuries he sustained in the crash, his family said.
"Oliver was naturally courageous and compassionate, and showed his love through many selfless acts of charity," said his sister, Cara Bailey. "He was the heart of Huntington.
"Several years ago the old Backyard caught fire while he was working. He ran to the top floor and knocked on every door on the way down to make sure the tenants were safe and out of the building, "she said. "It's an indication of his outlook on life. He has always considered others before himself.
Oliver Bailey was born in Barboursville and graduated in 2004 from Cabell Midland High School.
Almost ten years ago, he joined his friends Drew and Megan Hetzer to build and open Backyard Pizza and Raw Bar in downtown Huntington.
Drew Hetzer described Bailey as more than just a friend.
"He was like a brother to me," Hetzer said.
Hetzer said he met Bailey in 2007.
"I was a bartender at 21 at the Frederick and he worked at the Blackhawk Grill in Barboursville, then started as a bartender at a bar called Same Old Place in the Frederick building," Hetzer said. "We would always catch up after work and go somewhere to hang out or pass each other after hours. One thing I really remember when I first met Ollie is that he always had a smile on his face. He's one of those people who every time you see him makes you feel good and that's when we really started hanging out all the time.
Hetzer said a few years later that he started talking to Bailey about an idea he and his wife had to open a restaurant in Huntington.
"He said 'If you're doing this, I really want to be a part of it,'" he said. "Then a few years went by and we made that dream come true with the start of Backyard Pizza and Raw Bar."
Hetzer said starting the restaurant was tough and difficult at times.
"We didn't have a lot of money to do the initial start-up," he said. "Meg and I were always self-employed and I was always trying to finish school at Marshall and college at Marshall, so we didn't have a lot of money to pay people to help us. Ollie was one of those people who offered to help even though we couldn't pay for him at the time. He just wanted to be a part of something special.
Hetzer said Bailey was a really passionate person with a big heart.
"When we started building Backyard Pizza and Rawbar there were a lot of demos of old tiki hut dust stuff that really needed to be taken down and it was really dirty jobs, but Ollie was never afraid of the job. He's the hardest worker I've ever met, "he said. "He showed up every day to help and work for free. The three of us were barely able to pay our bills and make ends meet by opening the restaurant because our time was so busy with construction.
Hetzer says that when they opened, they were all working about 16 hours a day.
"We couldn't have done it without Ollie," he said. "He was the backbone of our business.
Hetzer said Bailey also played an important role in development when he and his wife opened The Peddler in 2014.
"But on July 27, 2014, the Morris Building, which houses both Backyard and Peddler, caught fire," Hetzer said. "When the fire started in the Morris building above our restaurants, Ollie was the first on the scene and started running up and down each floor to make sure all tenants in the apartment were safely evacuated. security. After the fire everyone was devastated, but Ollie held his head up high and we got together to see how we could help our employees while we were closed and begin the rebuild.
"About two years later, we reopened our doors at our new location and he partnered with Jay Fox to help us with our brewing operations."
At The Peddler, Bailey worked alongside Fox on a daily basis to create, produce and distribute Peddler beer statewide.
"Ollie held himself to a high standard. He wanted to be the best at everything he did and he went above and beyond to make sure he got the result he wanted, "Fox said. "He was determined to improve everything he was a part of, and it was refreshing to be around that. Whether it was brewing beer, being a good friend or a reliable colleague, Ollie was exceptional in every way. He was a helper, generous and a friend of all. He will be sadly missed by The Peddler and all who knew him.
Bailey was regional manager for Backyard and The Peddler. Recently he became Assistant Brewer and Sales Manager for Peddler Beer.
Hetzer said Bailey not only had a love for people, but also a big heart for animals.
"About a month after being opened, Meg and I were on 1st Street and saw this stranded male puppy that was barely alive," Hetzer recalls. "We took him but couldn't keep him because we already had two big dogs. Ollie took him in, looked after him and named him Bruno. Bruno was Ollie's best friend whom he loved very much. He took his best friend everywhere. Bruno passed away in March, so now Ollie can reunite with his best friend in Heaven.
Hetzer said Bailey was the most genuine, determined and kindest person he had ever met.
"I feel extremely lucky to have had him as a close friend as family," he said. "He will be missed, but his legacy will never die. "
Hetzer posted Bailey's death on Facebook and received hundreds of condolence comments from local friends, businesses and restaurants.
Bad Shepherd Beer Company posted: "From the brewery and our restaurant families to Black Sheep Burrito and Brews at The Brewery Black Sheep Burrito & Brews and Bahnhof WVrsthaus & Biergarten, we send our deepest condolences and love to Drew Hetzer and his teams at The Peddler and Backyard Pizza and Raw Bar on the tragic loss of rock star Ollie Bailey, who died this weekend.
Ollie was a versatile star at Backyard and The Peddler, was an amazing spirit, and was truly beloved on the WV restaurant scene. We send our love and prayers to his grieving family and restaurant family. "
Bailey was predeceased by his father, John Bailey. He is survived by his mother and stepfather, Sandy and Marshall Snedegar; three sisters, Cara, Johnna and Alisha; a brother-in-law, Thomas; his nephew Bodhi and his niece Adorae; his maternal grandmother, a host of aunts, uncles, cousins ​​and many extended family and friends.
A Celebration of Life is scheduled from 4 p.m. to 8 p.m. on Tuesday, June 29, 2021, at the Vandalia Crowd House, located above Backyard Pizza on 3rd Avenue. The entrance is in the alley behind the building.