Fletchers at Grantley Hall, Ripon: 'Confusing and suffocating expensive' – restaurant review | Food
Fletchers at Grantley Hall, Ripon, North Yorkshire, HG4 3ET (01765 620 070, grantleyhall.co.uk). Starters £12.50 to £19.50, mains £24 to £50, desserts £11.50 to £14, wines from £34
I arrived at Grantley Hall on time for my reservation, and I was always late for my table. It was because of the long drive from the front doors, through a huge pool table mat of manicured lawns, to the parking lot. It was followed by the challenge of finding a place among Porsche and Tesla charging stations. We then had to walk through the parking lot pretending to belong there, gently lulled by the soft jazz piano that was disconcerting to us through the underbrush.
We walked the length of the mighty building, hopped inside and through a padded cell of thickly carpeted, wood-paneled rooms to arrive at Fletchers, the hotel's brewery. Admittedly, we paused to admire the window displays of simple thrift stores available to buy, including diamond-infested bracelets reaching £9,295. Finally, we arrived at the dining room.
You get the point. Grantley Hall, a grand 17th-century Yorkshire stack, opened as a five-star hotel in 2019 and is over-engineered within an inch of its gilded, primed and polished life. It is owned by Valeria Sykes, who invested £70million in the conversion after divorcing businessman and Brexit donor Paul Sykes. Facilities include a swimming pool, snow and steam rooms, gym, altitude training chamber, underwater treadmill, cryotherapy chamber – no, me neither – and body scanner 3D which can check bone density. Who needs a digestive when you can have your bone density checked after lunch?
I am aware that all this passes for reverse snobbery; like a performative sneer at the excesses of the overly rich. Creepy. This is the intention. Grantley Hall is hilarious over the top. This is where any reasonable outlook on life will die. It's home to a slew of restaurants, including a faux après-ski cafe, which Yorkshire has arguably long dreamed of, and a joint fusing 'Yorkshire produce with Far Eastern flavours'. Then there's Shaun Rankin's flagship restaurant, formerly d'Ormer, which offers a 10-course tasting menu each evening at £130pp and has until now been represented by three different PR firms. Everyone encouraged me to go.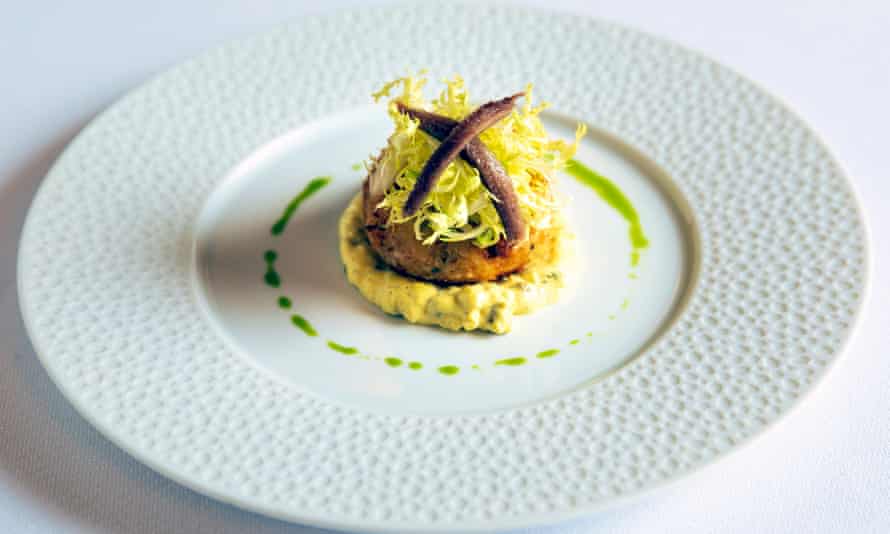 No thanks. I was much more interested in the brewery, partly because it's the place you'd go to eat the rest of the time if you were staying at the hotel, and partly because I like to imagine Fletchers carrying the name of Ronnie Barker's character in porridge. I guess it's not, although I couldn't find anything on the website explaining the name. I did find a little bit of neat coding by the web designer though: the tab in Chrome for the restaurant page says "Best places to eat in Yorkshire".
I won't lie. I am not entirely convinced that this is true. It's not a bad restaurant. Staff are cheerful, though required to wear name badges as if they were a Harvester. And we can all enjoy a little mock Scottish Baronial. There is tartan padding on the chairs. An open fire gutters. But the whole enterprise is both confusing and suffocating for what it is. Then again, this cryotherapy chamber isn't going to pay for itself, is it?
The dishes read like someone once stopped outside the Wolseley in London and had a quick shufti from their menu, not caring to eat there. At first, everything seems to be designed to comfort and nurture rather than amaze you. Then again, the £25.50 charged for beer battered fish with a real Jenga of chips could well be both at the same time. You can have smoked salmon lunchtime sandwiches for £16.50, or a chicken salad with avocado and gem lettuce for £21.
Much of the rest, however, is detailed and precise and just exhausting. A single smoked haddock and spring onion fishcake for £14.50 arrives surrounded by a neurotic circle of herb oil that seems to be there purely to frame rather than flavor. There is an honor guard of pickled anchovies placed just above and a perfect disc of very good tartar sauce below. The fishcake itself is heavy on the potato, light on the fish.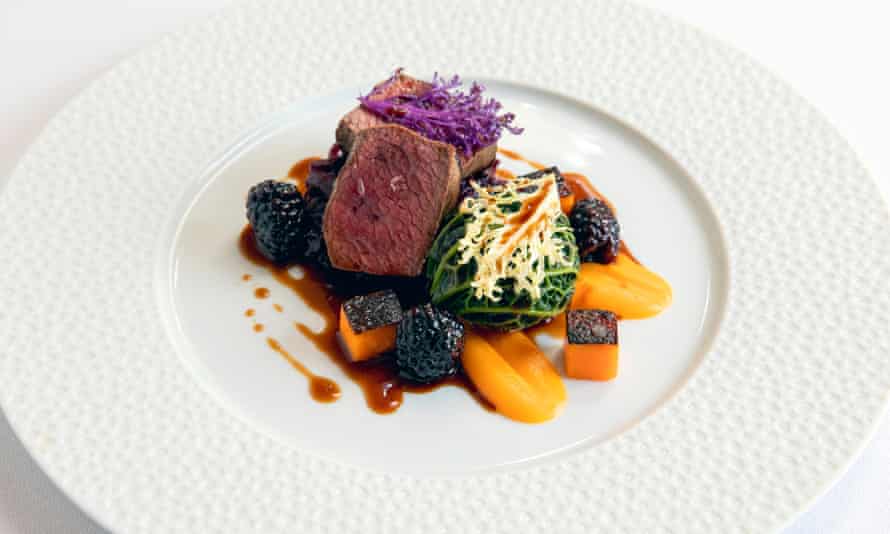 In another entree, a pigeon breast is beautifully cooked, but the plate is splattered rather than sauced, and it looks like someone used a centimeter ruler to carve the disappointing black pudding cubes. So it continues. I admire the technique of cooking a piece of venison loin, or the zip of braised red cabbage underneath. Very good too, at £32. But why advertise a queer and then present something so devoid of visceral screaming? A good fag has to be literally brave. This one looks ashamed of himself. A stone bass plate with calamari, braised fennel, saffron and fennel puree and a red pepper butter sauce reads like a love letter to the French Mediterranean coast; it tastes like it was cooked by someone who went there on vacation, but didn't enjoy it at all. The flavors are sober and attenuated. However, there are always the tokens. Oddly enough, they remind me of the ones in the bag at the bottom of my freezer. Tricky trick to succeed, that.
And then the desserts arrive. Oh man. They are brilliant; some of the best examples of detailed pastry work I have had the pleasure of seeing in a long time. A thin white chocolate cuff encloses the lightest of sponges, topped with a rhubarb cream, in turn enclosing a silky rhubarb gel; a chocolate stout cake is covered in various ethereal mousses inside a perfect cylinder of dark chocolate. It comes with a chocolate ganache dome and a cookie sandwich with an Irish cream ice cream parfait. Both of these amazing desserts cost around £13. I can't want a penny. They look like dishes from an entirely different restaurant; one who knows what he wants to be and how to achieve it.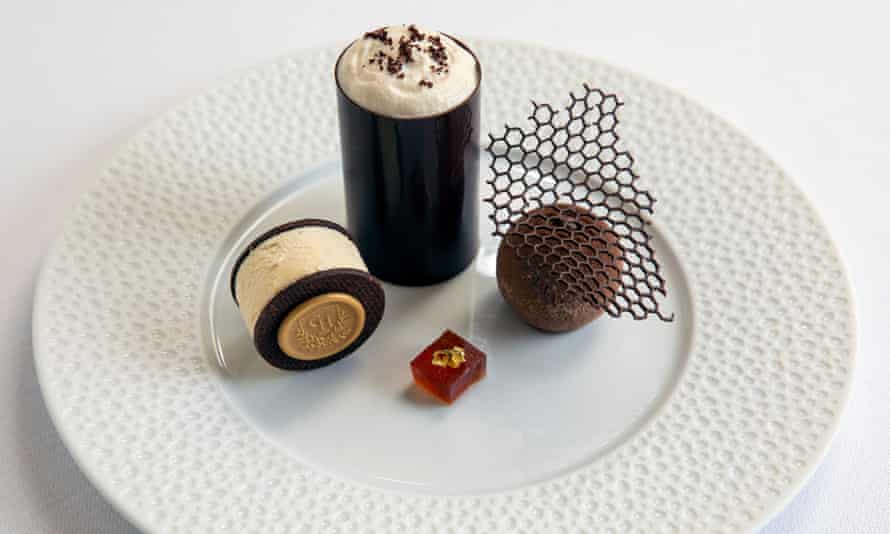 As I said before, this review is well buttered with snark. I think that's reasonable. Our bill for three courses without wine is just under £150 and while we walk out singing a hymn to the desserts we just mumble irritably about the rest. Well. It is something that helps us get through the long journey ahead of us; the one all the way back to the front door.
News
Ever restless chef and restaurateur Gary Usher of North West-based Elite Bistros has announced plans to fund £2million by selling shares in the company. Previous crowdfunders, accustomed to launching new restaurants, have offered rewards including meals and merchandise. The new funds, he says, will fund the opening of three more restaurants alongside Sticky Walnut, Wreckfish, Burnt Truffle and Hispi. He also says he has plans for a tapas-style restaurant (elitebistros.com).
After becoming the first restaurant in Wales to be awarded two Michelin stars, chef patron Gareth Ward of Ynyshir in Machynlleth, Powys, has announced he will be opening his own pub. Once planning approval is given, it will be built on land behind the restaurant and, he told the industry magazine The trainer, should be open by the end of the year. "The overhead is huge in Ynyshir," he said, "and the land will help pay for his way." (ynyshir.co.uk).
Full Covid figures on the hospitality sector are available. Industry body UKHospitality has calculated that the restaurant sector lost around £115billion in sales in 2020 and 2021 due to the pandemic. Kate Nicholls, the organization's chief executive, is calling on the government to keep hospitality VAT at 12.5% ​​rather than lower it to 20%, to help the sector recover.
Email Jay at [email protected] or follow him on Twitter @jayrayner1