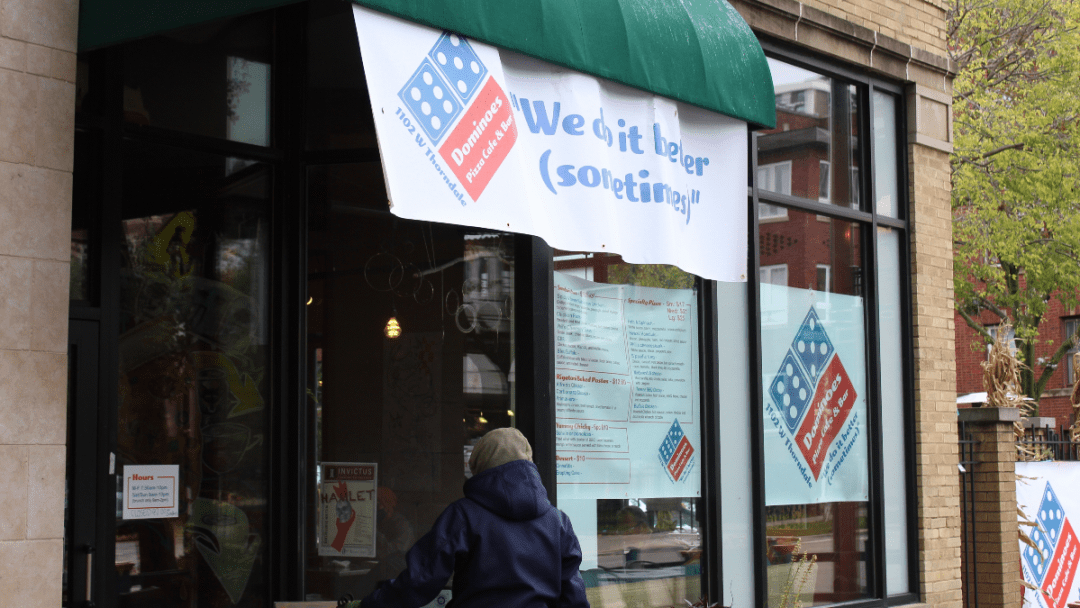 Edgewater's Rewired Pizza Cafe Disguises As 'Dominoes' For Halloween After Being Inspired By McDowell's
EDGEWATER – When Daniel Barat was building Rewired Pizza Cafe and Bar, he noticed something slightly baffling for a small business owner: a constant flow of delivery drivers for a certain national pizza chain.
"We were sitting there doing research and development, and I kept seeing the Domino drivers pass by," Barat said. "I said, 'We should rename the whole place to' Dominoes'. "
Barat makes the idea a reality, because Rewired is "disguised" as "Dominos" until Saturday.
"Dominos", 1102 W. Thorndale Ave., offers a local version of Domino's menu. This includes the Hawaii Honolulu (bacon, pineapple, ham, red pepper, and red sauce), a derivative of the Honolulu Hawaiian pizza chain. There is also the Phil's Cheese Steak (white sauce, steak, peppers and onion), made with Domino's Philly Cheese Steak pizza.
The pop-up will also serve versions of the national pizza chain's baked pasta dishes, including Chicken Alfredo and Chicken Carbonara. A special drink menu is inspired by fast food drinks, including an orange cream slush.
The restaurant's signs and decor also play on the Domino's logo and its blue-red color palette.
"It's a little game on their menu," said Barat. "It was super fun. I told the staff, "Have fun for 10 days and stay light."
Rewired opened in November 2020 on Thorndale Avenue after moving from its old home on Berwyn Avenue. The old location is being redeveloped into an apartment complex.
In the process, Barat rebranded Rewired, moving mainly from a cafe to a restaurant-café, launching a pizza service and bar. Barat also had a Rewired location at Lakeview from 2017 to 2019.
Barat said he and his team are considering hosting more pop-ups on the new Rewired, but they haven't looked into it so far as the pandemic gets in the way. With Halloween this week, it was a great time to try it out, Barat said.
An inspiration for the tongue-in-cheek tribute was McDonald's parody portrayal of "McDowell's" from the 1988 film, "Coming To America".
The pop-up was well received by customers, although it required more explanation in some cases, Barat said.
"There was some confusion originally, but once people found out it was a Halloween costume, they adopted it. Most people like it, "Barat said.
The "Dominos" menu is available from 11 am to 10 pm until Saturday. For more information on the pop-up, click here.
Listen to "It's All Good: A Block Club Chicago Podcast" here: