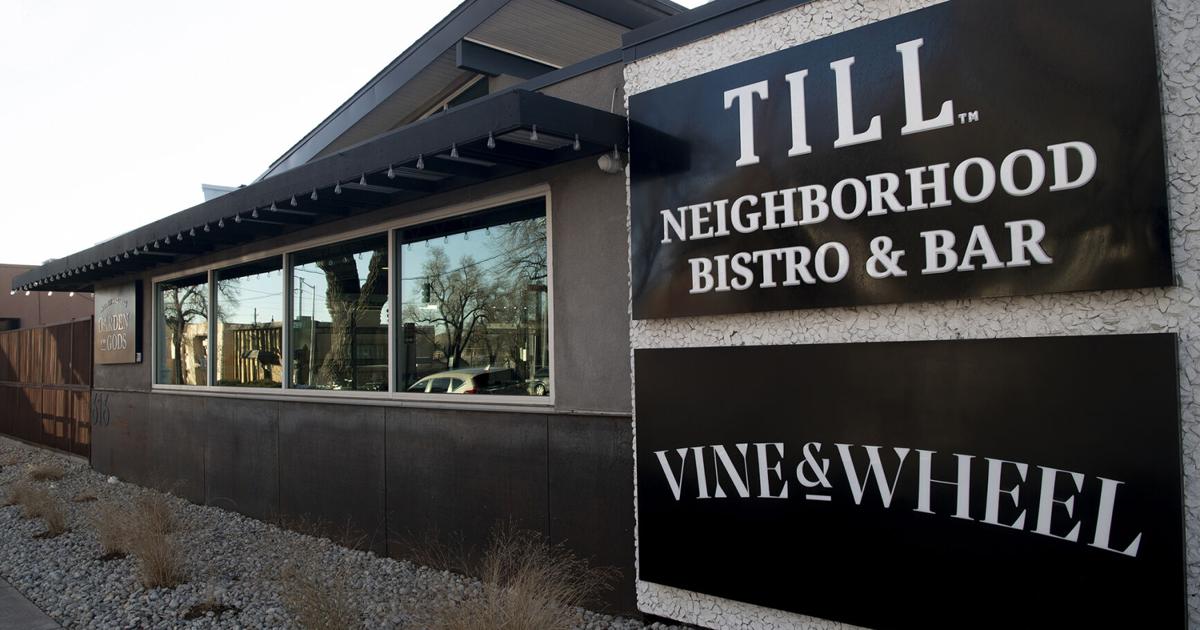 Dining Review: A tantalizing menu at Till in Colorado Springs | Content reserved for subscribers
It can be confusing when restaurants share everything, including an address and setting, but have different names and menus. Interestingly, it works well for an evening bistro and a daytime cafe.
This is a review of Till Neighborhood Bistro & Bar's dinner service, but it's necessary to acknowledge its breakfast/lunch alter ego: Garden of the Gods Market and Café. Both the food and the service are impressive. Once in the far northeast of the city, Till's new digs are less cavernous but still well-appointed with a tantalizing menu.
In the absence of dividing lines, often the case with siblings sharing a room, the distinction comes in what is served. Both are part of the Altitude Hospitality group. The cash register opens at 5 p.m. most days; the cafe closes its daily activities at 2 p.m. That's when the almost indiscernible transformation begins. It all depends on the time of day. The bar is always open during service.
Till's menu is exactly what I like: limited in quantity but abundant in possibilities, with imaginative variations on starters, salads and main courses. These include premium sandwiches, halibut and comfort food like meatloaf, among others.
The smoked salmon dip ($16) is creamy and rich. It is served with the impressive amount of fried pita chips. When ordering dips, it is common to have to ask for more dips because the ratio is usually wrong. Pulled pieces of salmon are enhanced with tangy lemon juice and capers. The dip, in a hot cast iron serving dish, was cold. It made for an interesting temperature combination.
Our server said there was no dish more popular than another. Still, I noticed several orders of steak frites ($28) coming out of the kitchen. It made sense to order this version of the steak and fries. Till's interpretation is a perfectly rare New York strip with a little salad of arugula and, of course, the potatoes. Unlike other places, these are not thin and brittle. Instead, they're thick, but fuse a deep-fried crispy exterior with a creamy interior. Compound butter is also an important component.
Ideally, the herb-infused butter melts over the grilled meat for added flavor. However, the steak was not hot enough for a complete melting of the butter. The result was a fresh (not cold) but still tasty meal.
The large agnolotti veneer ($23) did not suffer the same fate. It arrived hot and maintained an appropriate temperature throughout the meal. This, however, was the least impressive aspect. The mix of textures and flavors in small pasta pillows topped with velvety butternut squash puree, caramelized onions and nutty Fontina cheese for a tantalizing meal. Topped with sun-dried tomatoes and breadcrumbs, the finishing touch is the creamy mushroom and herb sauce. The only thing missing is a hard roller to soak it all up.
Unfortunately, our dessert choice, the smoked lemon pie ($11), was a bust. It was so difficult that it was impossible to reach the crust without personal risk. We tried forks and knives, as did a couple at a nearby table, to no avail. While disappointing, fond memories of the entrees linger.
Till neighborhood bistro and bar
The description: Gastronomic cooking
Site: 616 S. Tejon Street
Contact: 719-471-2799; 719-470-6040 (for reservations) tillsouth.com
Prices: $17 to $38
Hours: 5 p.m. to 10 p.m. Wednesday to Sunday.
Details: Credit cards accepted. Alcohol. Wireless.
Favourite dishes : Steak fries and homemade agnolotti
Other: Gluten-free and vegetarian options available