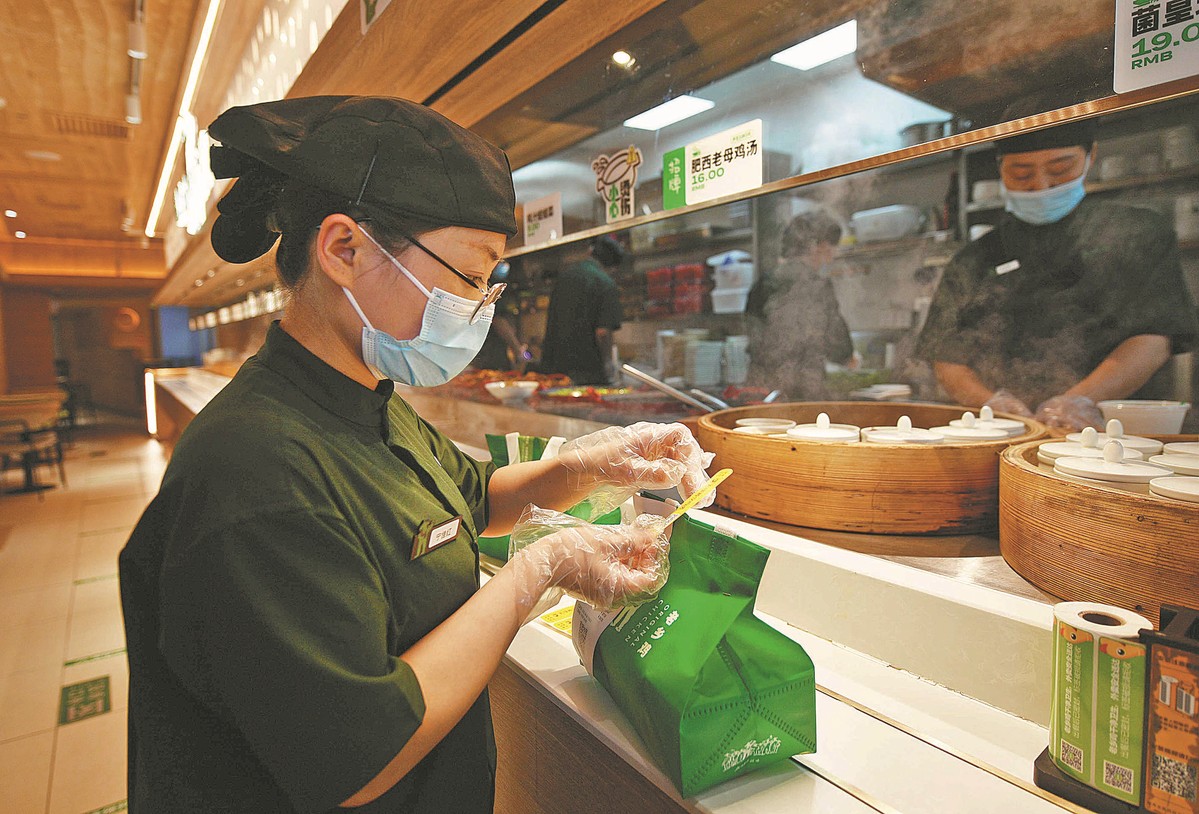 Chinese restaurants are going digital to stay afloat
June 27, 2022
BEIJING – Offering takeout and live streaming now must-have skills for F&B businesses
In front of a rolling camera, Liu Chaoran presents crayfish dishes while reassuring viewers about their quality and encouraging them to stock up.
Liu is the media director of Beijing's Huda restaurant, famous for its crawfish. The restaurant has turned to live streaming to reach consumers remotely as COVID-19 continues to affect the city, according to a report on news site people.com.cn.
Huda is among the legions of food and beverage companies looking for a new revenue stream by giving themselves a digital boost.
According to a China Hospitality Association survey of 100 catering companies, 90% of companies saw a year-on-year decline in revenue, and 28% of them saw a drop of more than 80% from April to mid-May.
Restaurants in Beijing have coped with the city's recent suspension of on-site dining by adopting methods such as offering take-out and direct sales. These skills have become essential for restaurants today, Huda Restaurant Operations Manager Zhang Shengtao told people.com.cn.
Hotpot chain Haidilao has connected its qualified branches to offer takeout services with people from its WeChat mini program and third-party delivery platforms, according to Li Yu, who is in charge of Haidilao's operations on the Chinese mainland. China.
"The plan is that once our restaurants in a city or region are no longer able to offer dine-in services due to COVID-19, they can move all of their operations online. This gives them the flexibility to make quick changes to their operations if needed," Li said as quoted by people.com.cn.
Xiao Sushi, a sushi chain with more than 30 branches in Beijing, is an early adopter of digital solutions to recoup COVID-19-induced losses.
Chen Xiaodong, the chain's founder, told China Youth Daily that they started reorienting their operations to focus on takeout sales right after the initial outbreak of COVID-19 in 2020. As a result, the proportion of its online sales grew from 26% to 46% that year.
With more than two years of experience, Xiao Sushi has become a mature takeout supplier. "We saw an increase in our takeout business in May when Beijing suspended catering services," Chen said.
However, selling takeout has its downsides. One of the biggest drawbacks, according to Chen, is that there is no interaction between diners and restaurant employees.
"We are trying to solve this problem by actively communicating with consumers by phone and other means to quickly address complaints if they arise," Chen added.
And it turns out that offering take-out isn't for all types of restaurants. A staff member at a barbecue restaurant in Beijing's Chaoyang district told China Youth Daily that the restaurant hasn't received many orders since it launched a takeout service.
"Most customers order items like bibimbap. Very few of them would order BBQ food," the staff member said.
To help catering companies overcome these difficulties, the China Hospitality Association held a summit and established a committee on the digital transformation of China's catering industry in Beijing on June 10.
The committee is made up of representatives from more than 20 companies that provide digital solutions to F&B businesses. They include Meituan, Hualala and Weimob.
"Digital technology is especially important at a time when COVID-19 has accelerated the digitalization of the industry," Chen Xinhua, chairman of the China Hospitality Association, said at the summit.
"The adoption of next-generation technologies, such as big data, cloud computing, the Internet of Things, blockchain and artificial intelligence, can gradually reduce transaction, production and organizational costs for F&B companies," Chen noted.
"The pandemic has dealt a heavy blow to Chinese catering and catering businesses. But it also made them recognize the need to strengthen their basic skills," said Wang Dongfeng, an executive at Meituan.
For any catering business, going digital has become one of the pillars for developing its core competencies, Wang noted.
Li Zhenhong, CEO of Candao, a restaurant management system provider headquartered in Guangzhou, Guangdong Province, said, "Decision-making in the digital age must be backed by data. Accelerating digital transformation can improve a company's ability to deal with crises. »