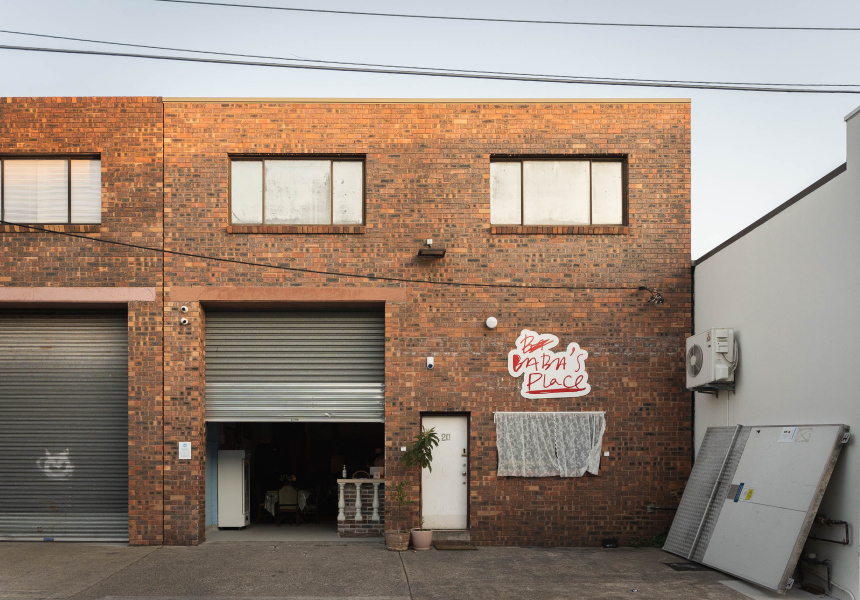 Baba's Place, a warehouse restaurant in Marrickville honoring Sydney's multicultural communities
If you find yourself walking through the rolling doors of an industrial warehouse down an alleyway in Marrickville and into a space reminiscent of a suburban Australian immigrant's home, then you'll know you've come upon Baba's Place.
The interior has been carefully curated using a mix of heirlooms and memorabilia, and items from Operations Stores and the Facebook Marketplace. There are velvet-upholstered bar stools in a leopard print, a pebble counter and 80s-style wall tiles, plus mismatched chairs to accompany the dining tables covered in tablecloths and plastic. The floor, meanwhile, is covered with Turkish rugs to complement the fire-engine red wall adorned with a gallery of old family photos.
While the setting may seem deliberately lo-fi, co-owner Alexander Kelly says the intent is quite the opposite. "We're trying to highlight the beautiful aesthetic of the suburban culture of growing up in Sydney," he says Large format.
Like the decor, the menu of co-owner and chef Jean-Paul "JP" El Tom (ex-Butter) does not offer dishes synonymous with a single cuisine or culture, even if the company bears the Kelly's name. Macedonian. Grandmother. Instead, he draws influences from Sydney's diverse communities, including Kelly's Macedonian heritage, El Tom's Lebanese origins, and the Greek roots of sous-chef and co-owner James Bellos, and combines them with techniques. "New age". It is also a demonstration of how cuisines and dishes cross borders, evolving and changing over time.
"We try to take really basic dishes – what people think of as 'cheap food' – and bring it up, and respect the cultures that have been labeled as needing less than $ 15. ", says El Tom. "We want to celebrate it and not take it for granted. "
At the same time, El Tom also wants to talk about what it is like to live in Australia as a first generation immigrant. "We all have food memories and we want to bring them back to life," he says.
The menu changes often, but some of these experiences can take the form of a homemade labne from Lebanese culture; citrus cutlet with lemon butter, charcoal sauce and fermented celery; and sous-vide octopus cooked over charcoal and served with curly endives and raspberries.
There's also a Bolognese bouillabaisse, a nod to Sydney's large Chinese community and popular handmade noodle houses. Hand-drawn Shanghai noodles are served in a bacon and shrimp XO style sauce, smoked koji, lamb stew and shrimp head broth.
The short, punchy drink list centers around the Balkan-inspired rakija made by Sydney's DNA Distillery. It can be enjoyed as a shot or mixed into cocktails such as sumac and watermelon soda, or Baba's Place's version on a Negroni with Punt e Mes, chamomile tea and fresh pineapple.
The opening of the restaurant-restaurant in its current location took almost 10 months. The crew officially opened in June, but were forced to operate take-out during the recent lockdown. Prior to that, it operated as a pop-up at the Rolling Penny in Newtown and opened temporarily last year at another warehouse in Marrickville.
Despite the location changes and the ever-changing menu, what is constant is the team's commitment to creativity and fun with traditional recipes.
"We just want to create as many new flavors as possible," says El Tom.
Baba's place
20 Sloane Street, Marrickville
(02) 9090 2925
Hours:
Thu to Sat 6 p.m.-midnight