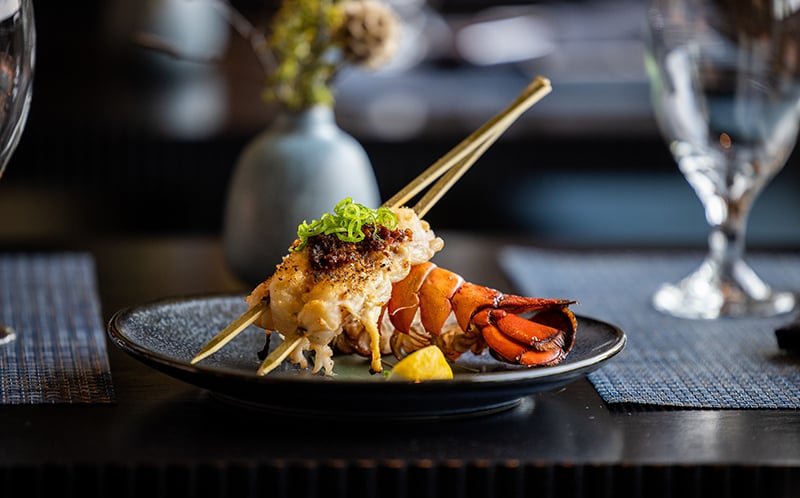 A survey of the best restaurants in East and Southeast Asia in Charlotte
FEATURED RESTAURANT: MIZU
3100 Apex Drive
704-981-9299
Mizu, which translates to "water" in Japanese, exemplifies the best of Asian fusion: traditional cooking techniques, local ingredients and flavors from multiple regions. Chef Michael Chanthavong serves a seafood-focused menu using a Japanese barbecue method that dates back thousands of years. Take a seat overlooking the open kitchen and you'll see the Robata grill sizzling with lobster, duck breast and grilled vegetables. The menu also includes maki, chilled and raw dishes, and Japanese desserts like a coconut parfait and grilled pineapple a la Robata. Head to the rooftop of the Hyatt Centric SouthPark to experience the Orchestra of Flavors.
KONNICHIWA
1315, boul. East, Ste. 130
980-498-0420
Choose from hibachi bowls, ramen, and a sushi menu with Charlotte-themed buns.

ASIAN BISTRO SABI
130 Harbor Place Drive, Davidson
704-895-5707
Find Asian-inspired dishes, from sushi and stir-fries to sweet and sour chicken, in an elegant interior.

NEW ZEALAND COFFEE
1717 Sardis Road North, Ste. 6A
704-708-9888
This small, 40-seat seafood grill and sushi bar serves an assortment of specialty rolls – the spicy dragon, bamboo, and crispy eel are all colorful bites of bliss – and for less than its chic cousins. chic neighborhoods.

DEEJAI THA
613, chemin de la Providence
704-333-7884
This family-run restaurant offers take-out, but with its modern dining room and bright patio, you'll want to sit down at a table.
LANG VAN
3019 Shamrock Drive
704-531-9525
This 31-year-old Vietnamese restaurant is known for its pho noodles, but regulars know how to start with bánh xèo, a tasty rice flour pancake folded over sliced ​​pork, shrimp and bean sprouts.

FUTO BUTA
222 E. Bland Street
704-376-8400
This ramen house promises authenticity, irreverence, and delicious savory bowls of hot noodle soup.

LET'S MEAT KBBQ
1400 S. Church St., Ste. B.
980-299-4389
This all-you-can-eat barbecue-marinated meats are served with Korean side dishes like steamed egg soufflé.

NIKKO
325 Arlington Avenue, Ste. 108
704-370-0100
Artistic sushi, a moody interior, and a punchy sound system draw dinner parties and nightly crowds, but the quick service makes this a great lunch spot.

O-KU
2000 boul. South, Ste. 510
704-594-1922
This third location in the Japanese restaurant of Charleston-based Indigo Road restaurant group offers great service, a beautiful interior, and dishes full of flavor.

RAI LAY THAI
1520, boul. South, Ste. 130
980-207-0991
Carrot shreds and blossoms brighten up fresh sushi roll plates, and the pad thai tastes more elegant somehow when served in a large white bowl with a bright pink and white orchid on the side.

HO HO CHERRY HOUSE
2001 E. 7th St.
704-376-0880
This Elizabeth restaurant always serves good Chinese food like Pork Fried Rice, Rangoon Crab, and General Tso's Chicken.

RED SAKE
8410 Rea Road, Ste. 100
980-498-1578
These are sushi for real sushi lovers. The Luke Lobster roll is a delicious bite of lobster meat, spicy tuna, avocado and eel sauce topped with sweet potato strings.

ASIAN CUISINE SPICES
251 textile route, Fort Mill
803-548-6868
Dumplings and pad thai are always good, but bibimbap, bossam, and curry dishes are great for the adventurous palate.

ASIAN FUSION YAMA
720 Governor Morrison Street, Ste. 130
704-295-0905
This upscale Japanese restaurant offers sushi, hibachi and Asian-inspired dishes. A second location is in Waverly.

BASIL THA
210 N. Church St.
704-332-7212
Thai lovers can satisfy their cravings with Pad Thai, while the more daring can try dishes like Crispy Red Curry Duck, a Rich, Deep Duck Half in a Spicy Red Curry Sauce.

MOA BBQ KOREAN
128 Tryon St.
704-503-9412
You can order Korean tacos and kimchi bulgogi nachos a la carte, but the table barbecue is the main attraction. Watch your waiter cook beef brisket and pork belly as you sip an artisan cocktail.

BISTROT SOHO
214 N. Tryon St., Ste. 110
704-333-5189
Lightning fast and friendly service complements hot and savory Chinese dishes such as Sha Cha shrimp and Mongolian chicken.

SUSHI PARK
6601, boulevard Morrison
980-498-0061
The chef's signature buns steal the show, but the menu also includes ramen, salads, and bento boxes for the lunch crowd.

YAMAZARU SUSHI & SAKE
2173 Hawkins Street, Ste. A
980-201-9134
This stylish South End restaurant serves noodles, ramen and sushi, as well as sake, cocktails and beer.

SEOUL POKE BOWL
3609, boul. South, Ste. D
980-219-8543
This cozy countertop restaurant serves up buildable Hawaiian-style poke bowls with a Korean twist.

PRIMARY FISH
11212 Providence Road, Ste. B
980-339-5822
As a Certified Sake Advisor, Chef Robin Anthony pairs fish with sake in the same way a master sommelier pairs food and wine.

ZEE FUSION & SUSHI
16925 Birkdale Commons Parkway, Ste. F, Huntersville
704-892-4242
Feast on fresh sashimi, nigiri, and specialty buns, or nibble on blackened tuna nachos and edamame.

ASIAN YAME NOODLES
4435 Park Road, Ste. 300
980-498-2006
Choose from a range of authentic Asian noodles like ramen and pad thai, along with other Pan-Asian dishes like fried rice, sesame chicken, and sautéed vegetables.

POKERITO UMAMI
7510, chemin Pineville-Matthews, Ste. 5A
704-526-0397
Get custom poke bowls or enjoy your poke burrito style in one of four signature wraps.
LAM'S KITCHEN
3016 Weddington Road
704-821-0676
The menu at this modest Matthews restaurant is long; find Chinese staples like General Tso's chicken and lesser-known clay pot dishes with salted fish and curried beef brisket.

OPEN RICE
9882 Rea Road, Ste. F
980-406-3894
Order a family-style spread with traditional street food, noodle soups and rice dishes, and save room for bubble waffles, a made-to-order cone filled with your choice of ice cream, toppings and drizzle.

BANH MI BROTHERS
230 EWT Harris Blvd., Ste. A7
704-900-7842
This quick and relaxed Vietnamese restaurant serves traditional banh mi sandwiches, homemade porchetta and pho-tine fries. Don't forget to add a Thai tea or fruit shake to your order.